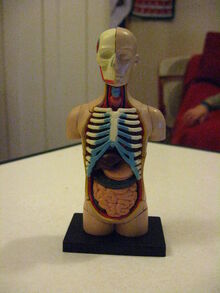 Edexcel IGCSE Human Biology Edit
Edexcel offer an IGCSE specifically in Human Biology.
Specification: Human Biology International GCSE from 2009 . Note this means for teaching from 2009, so first exams were in 2011.
Past papers, specification and useful Teacher Support Materials available on the Edexcel site at the link above.
Two papers, no coursework.
Single-tier, ie no need to choose between Foundation or Higher papers.
First examination in 2011.
The standard textbook for this qualification is: Edexcel International GCSE Human Biology Student Book by Philip Bradfield -Paperback – pub 12 Oct 2010. There are some corrections to errors in the original textbook, which you can download as a zip file containing several pdf documents. You will need the Human Biology IGCSE Answer filefor the end-of-chapter questions
Human Biology Resource List Edit
List of resources from a member of the HE Exams Yahoogroup.Resources recommended by HE Exams Yahoogroup member Karen G:
Here is a list of links etc that we used for Human Biology...we didn't get to use all of them in the end, but there were some excellent resources on there...Been helped out on the HE Exams Yahoogroup a few times and appreciate it very much, so hope these will save someone some time and energy! bw's Karen

Cell Parts Worksheet - Cell Membrane Lesson - My Schoolhouse - Online Learning http://www.myschoolhouse.com/courses/O/1/70.asp
I used the freebies off the following site, and dd used the edexcel book to check her answers...but i have had membership to this site before and it is well worth the money: Enchanted Learning Anatomy Activities
http://www.biology-resources.com/biology-questions.html
http://www.biology4kids.com/files/cell_main.html
http://www.youtube.com/results?search_query=edexcel+igcse+human+biology
Great free revision http://www.s-cool.co.uk/gcse/biology
interactive http://www.sciencelearn.org/Contexts/See-through-Body/Sci-Media/Animations-and-Interactives/Label-the-heart
Ear labelling http://www.purposegames.com/game/705
Quiz: http://pauleds.com/assets/pauleds/portfolio/rias/anatomyquiz-ear/?width=700&height=495
ears and lots of body stuff here http://kidshealth.org/kid/htbw/
nerve cells http://highered.mcgraw-hill.com/sites/0072943696/student_view0/chapter8/labeling_exercises.html#
simple version http://psych.hanover.edu/Krantz/neural/struct3.html
Enchanted Learning has loads of stuff. http://www.enchantedlearning.com/subjects/anatomy/
Quizzes...http://www.biologycorner.com/quizzes/
Read and do quiz http://www.bbc.co.uk/schools/gcsebitesize/pe/appliedanatomy/2_anatomy_skeleton_rev1.shtml
Sewage and treatment etc http://www.bbc.co.uk/bitesize/standard/biology/biotechnology/problems_and_profit_with_waste/revision/3/
Extra stuff and videos etc http://www.bbc.co.uk/bitesize/standard/biology/ osmosis...about 12 mins....watch it all http://www.youtube.com/watch?v=tz8ja91C9_8
Blood cells...diffusion...about 2 mins http://www.youtube.com/watch?v=fAmLRGp6rMc
gas exchange in alveolas and capillaries http://www.youtube.com/watch?v=XTMYSGXhJ4E
very simple drawing explanation of gas exchange..simple but effective explanation http://www.youtube.com/watch?v=-mmSSU4iwAM
good explanation...in exam style points.. http://www.youtube.com/watch?v=hc1YtXc_84A
GCSE BITESIZE.... homeostasis, the nervous system etc http://www.bbc.co.uk/schools/gcsebitesize/science/edexcel/responses_to_environment/ ==== Genes and inheritance http://www.bbc.co.uk/schools/gcsebitesize/science/edexcel/classification_inheritance/
pollution and environment stuff that applies, I think it might be all on this section tho.. http://www.bbc.co.uk/schools/gcsebitesize/science/edexcel/problems_in_environment/
This is the older version, but lots you can revise..Hormones and the Nervous system again.. http://www.bbc.co.uk/schools/gcsebitesize/science/edexcel_pre_2011/electrical/hormonesrev1.shtml
More Genes/DNA/Reproduction http://www.bbc.co.uk/schools/gcsebitesize/science/edexcel_pre_2011/genes/
Health stuff http://www.bbc.co.uk/schools/gcsebitesize/science/edexcel_pre_2011/health/
AQA stuff...but might help http://www.bbc.co.uk/schools/gcsebitesize/science/add_aqa/ http://www.bbc.co.uk/schools/gcsebitesize/science/aqa/nervesandhormones/controlinthehumanbodyrev1.shtml
BITESIZE GAMES - SCIENCE ONES http://www.bbc.co.uk/schools/gcsebitesize/games/
Home0stasis cartoon clip http://www.bbc.co.uk/schools/gcsebitesize/science/add_aqa_pre_2011/homeo/homeosts.shtml Hoemostasis Higher Tier Test http://www.bbc.co.uk/bitesize/quiz/q38056241

khan academy has lots of different videos https://www.khanacademy.org/science/health-and-medicine/respiratory-system/gas_exchange/v/alveolar-gas-equation---part-1
pregnancy menstruation etc few mins long http://www.youtube.com/watch?v=GGFli0LVuI4#t=53
osmosis and diffusion few mins long http://www.youtube.com/watch?v=7i7e5FGVnNI
transport in Humans - about half hour http://www.youtube.com/watch?v=U4FE07DyEOM
quizzes and answers for the human body on here http://www.biology-resources.com/biology-questions.html
http://www.bbc.co.uk/schools/gcsebitesize/science/aqa_pre_2011/human/
someone's online revision notes... http://newurlsothatthedumbpeopledontgetfreenotes.files.wordpress.com/2012/03/biology-igcse1.pdf
http://www.clickbiology.com/advice-studying-igcse-edexcel-biology/
http://edexceligcsehumanbiology.blogspot.com
powerpoints, worksheets video links etc... http://www.clickbiology.com/advice-studying-igcse-edexcel-biology/
good videos and stuff on these - use only the ones you need help with to save time http://lgfl.skoool.co.uk/keystage4.aspx?id=315