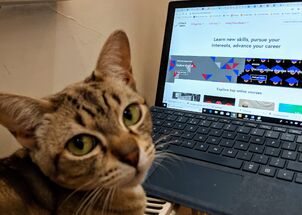 Correspondence Courses, Online Schools, and Distance Learning Providers
Edit
Buying a correspondence course is certainly not necessary in order to study for exams, but many find it helpful, particularly for certain subjects. Plenty of home-ed students follow a DIY approach, using the course textbook and supplementing it with online material (often free), plus using past exam papers (free, online) for practice and revision. If you follow this approach, look at the individual subject pages to see which textbooks have been recommended by other home-ed families. For most of us it is crucial that the textbook answers are easily available so we, or our children, can mark work. Some companies only provide answers in a special 'Teacher's Guide', which can be horrendously expensive. You can find the list of individual subject pages on the Main_Page.
However, correspondence courses do work well for many families. They can take the strain, and a lot of responsibility, from parental shoulders, especially if neither parent nor student is confident marking or checking the work. Another option if you want more structure is an online school, such as Interhigh, Net School or Briteschool. Students log on and join a virtual class with a teacher and a group of other students, for example every morning, Monday-Friday.
If you would prefer face-to-face teaching, or individual online tuition, see also the HE Group Learning and Tutor Recommendations facebook group.
Distance Learning Providers
Edit
See also individual subject pages for more options. Return to the Main Page to see the list of subjects. Some of these providers are nationwide companies which advertise widely, while others are home-education specialists, often current or former home-educating parents who offer niche courses specifically to home-educating families.
Home Education Course Providers, listed by subject (scroll down for providers of multiple subjects) Edit
The home-ed specialist courses are mostly run by home-ed parents who understand that home education can work in many different ways. Generally these courses will be cheaper than those provided by the big distance learning companies.
There is a Facebook group for Home Education Online Tutors and Groups, which may have additional listings or news.
Art History
https://www.dreamingspireshomelearning.co.uk/p/overview-of-our-courses.html Now offers a 2-year Art History course by a teacher qualified to prepare students for Pearson A-level.
Business Subjects
HomeMadeEducation offers IGCSE Economics, IGCSE Business Studies, GCSE Statistics, IGCSE Travel and Tourism, IGCSE Development Studies. Developed by a home educator for home educators. (A level courses also offered in some subjects)
Computer Science
Learntec home educator-run online Computer Science courses for CIE IGCSE Computer Science 0478 and KS3 Computer Science. Live classes are run over a virtual classroom. Full support is given to students. Individual tuition and coaching are also available. Self-led courses are alwo available. Learntec has had very good reviews on the HE Exams networks.
Catherine Mooney Tutoring English Language and English Literature, £210 per IGCSE (plus £35 materials pack for Literature). Catherine is a member of the HE-Exams yahoogroup and a home-educating parent herself.
Dorothy Murphy Tutoring Dorothy, a home educating parent and experienced teacher, has been teaching CAIE's English Language and Literature IGCSEs for 10 years and now offers a distance marking option for those parents only needing a little help and guidance.
Dreaming Spires Home Learning run by a home-edding mum and CAIE Examiner Dr Kat Patrick. Covers English via deep reading, and add-on writing extensions help prepare students for IGCSE English and literature exams via a tiered approach for students as young a 12.
Also Dreaming Spires Revision for its online iGCSE CIE 0500 English Language crammer, and now, Edexcel Spec A.
Revision guide based on the course are available on Amazon at this links:
☀For the new 2019 spec: https://tinyurl.com/yadnukrg
Foreign Languages
efrenchtuitiononlineOnline French tuition from ks3 to A level. Live classes or distance learning/self-led courses.
www.dreamingspireshomelearning.co.uk provides French1, 2 and 3 as live, online group courses as well as Spanish 1, 2, and 3.
Geography
Echo EducationOffers Edexcel IGCSE geography
https://www.dreamingspireshomelearning.co.uk/p/overview-of-our-courses.html provides preparation for both IGCSE and (coming soon) A-level geography using the Cambridge board. Long-term examiner and former question-setter.
History
Dreaming Spires - Ancient History, (Rome and Greece), taught by an Open University lecturer under the specification of the OCR syllabus. Modern and Mediaeval History (taught by Yvonne Mason) covers skills and tools toward GCSEs.
Echo Education Offers Cambridge IGCSE history
Law
itutorlaw - Diane May is a home educating mum, freelance solicitor and Open University law tutor.  Online GCSE Law, tutoring programme, with full support at a competitive cost.  Visit itutorlaw.co.uk or email Diane at dianemay@itutorlaw.co.uk (NB GCSE Law has now been withdrawn. Last sitting was 2018. A Level Law is still currently available). 
Mathematics Edit
Absolute Maths Distance Learning is run by a home edding family, Emma and Dan. They offer Distance Learning courses for KS3 and iGCSE/GCSE, 1 to 1 private tuition and an iGCSE/GCSE revision website. Courses are £350 (payment options are available) including weekly live tuition sessions in small groups,weekly work and an online learning hub. There is the option to purchase the course at a reduced rate with recorded sessions only. iGCSE/GCSE courses can be 1 or 2 years.
Penny Chivers Not a home educating parent, but a very HE-friendly distance maths tutor. One and two year online IGCSE classes. Also KS3 online classes.
Echo Education Offer Ks3 courses and Edexcel A IGCSE and Edexcel GCSE courses.
HomeMadeEducation: Offers GCSE Courses in Statistics, in a variety of formats.
https://www.dreamingspireshomelearning.co.uk/p/overview-of-our-courses.html Now offering an Advanced Algebra/Probability course to prepare for the future in data analytics: wider, broader, deeper for GCSE students or an excellent springboard to A-level and future mathematicians at uni, taught by a fellow at an Oxbridge college.
Sciences Edit
Echo Education - Sam Martell and Clare Patrick offer Chemistry, Biology, Human Biology, Physics and Double Science IGCSE, £230 per single subject including tutor support plus books/equipment. (Echo Education also offers other subjects - see under subject headings)
Dreaming Spires Home Learning approaches CAIE exam sciences through living books and contemporary issues, while covering all the topics you'd find on in the board's syllabus. The specialist tutor provides a General Science course for those not ready to hone down for exams yet.
IGCSE Science Courses Graham Bray provides a series of video tutorials for Biology, Physics and Chemistry for one set fee. He also provides a KS3 science course. There is currently a discounted subscription available to home educators via the PopArt group.
Social Sciences Edit
HomeMadeEducation offers GCSE Psychology (Edexcel), GCSE Sociology (AQA) and IGCSE Economics (Edexcel) in a variety of formats (online, printed and in person). Developed by a home educator. A level courses also offered.
Multiple Subject Distance Learning Course Providers Edit
NSWLearning - (formerly NorthStarWorldwide) former home educators who set up specialist online learning provider in 1999. From 2018 IGCSEs are now purchased as complete courses and can be begun at almost any time of year. Prices have dropped significantly - complete IGCSEs cost £450 and pre-IGCSE courses are £225. NSW is also an exam centre for CAiE, Edexcel and OCR.
Wolsey Hall Distance learning provider with a full range of courses for Key Stage 3, IGCSE and A level for home educators. Easy to use online learning platform with rapid support from online tutors.
Little Arthur Long established course provider for a range of subjects, £180 per IGCSE
Oxford Home Schooling Wide range of IGCSEs. Sliding scale costs, £350 for one IGCSE. No connection to the university. Has had some good reviews from home educators, and some not-so-good, but it depends how well you get on with your subject tutor. See below for reviews.
HomeMadeEducation: Run by an HE parent, offers Business and Social Science GCSE/IGCSE and A level courses; all inclusive courses offering excellent value.
Dreaming Spires Home Learning See information under the headings of various subjects above. Offers Ancient History, Modern History (with Yvonne Mason), General Science, Biology, Chemistry, Physics, French, Spanish, Mathematics, Art History, Geography, and a Creative Writing course.
Net School - online provider of various subjects. Study a single subject, or combination of subjects, from primary to A level. Live lessons, which are recorded. New A level subjects are being added for 2019. Generally gets very good reviews from home edders.
Echo Education - see information under the various subject headings above. Offers Science, History, Geography and Maths at IGCSE/GCSE level, plus some subjects at KS3.
My Online Schooling similar to Net School in that they provide live, online group classes for various subjects. Covering KS2 through to GCSE/IGCSE and with options to study individual or a combination of subjects.
ThinkersMeetUp offer curriculum-based and interest-based live, online classes for students covering Classics, English Language and Literature, Maths, Science, Coding, Music and Art and Philosophy, Politics and Society for 7 - 18 year olds.
Arts Award Initiative Company Limited: for Arts Award and Bronze Crest Award, all online, visit our facebook page (home ed arts award) for info and details
Below are some comments from members of the HE-Exams Yahoo group on using distance learning providers.
Reviews and Advice from Home Educators
Edit
Please add a date if you provide a review for a distance learning provider.
To keep this page focused, reviews may be edited to make them more concise, and the editors may limit contributions to the three most recent reviews of each provider.
CloudLearn Edit
"We have used a relatively new online learning company called Cloudlearn for iGCSEs - costs about £300 per subject. They also do A levels, and more vocational qualifications. Very friendly and helpful to home educators. All lessons are online (and in book form) and can be accessed through computer or any device at any time. There are tutors accessible by email and chat, and students are encouraged to use the forums and help each other out (peer to peer learning!). With the maths and science (and some of the English) there are online multiple choice tests which can be taken again indefinitely to improve your score and for revision, etc. Tutor marked assessments take the form of past papers at the end of the course. Very impressed with them so far and very happy to recommend them. My son chose them over schools like Interhigh as he could study at his own pace and in his own time, but still do it online, and have tutorial support. They provide information and help on finding exam centres though don't do this for you". - anon
NSWLearning (formerly NorthstarWorldwide) Edit
NSWLearning is a specialist online learning provider set up by former home educators - offers online courses and is a CAiE/Edexcel/OCR exam centre.
"My son is doing a couple of IGCSE's at the moment through Northstar. They have been really helpful."
My daughter did her French IGCSE exams at NorthstarWorldwide. Edit
"The organisation of the centre was superb, everything was spot on, including sorting out her access arrangements, with brilliant communications, they were ready to answer any of our questions at any time, and even asked us to come in before so that our dd could be shown the room where she would be having the exams and to sort out the keyboard she would be using etc. Considering the time they put in, I really don't know how they can make it pay to run these exams, and I hope they carry on offering this service in the long term...I would mark them 10 out of 10 :)"
The online resources for the IGCSE course were excellent and it seems to be a very good platform. Edit
"I can definitely recommend their online resources. However, my son was disappointed with the tutor, who, due to his remote location, had internet connection problems for most of a term. It was probably just an issue for that year, but the lack of consistent communication meant that my son dropped out after the first year and we continued on our own.
The NSW online student forums weren't used at all during the course, which was a shame because we had opted for NSW because of the advertised 'social' aspect of the course. I guess this can be an issue with other online providers, too, so not entirely NSW's fault. If this is an important aspect to you, perhaps it's useful to ask the provider about online forums before signing up to any courses."
Sue's Experience: Wolsey Hall, Catherine Mooney and Oxford Open Learning Edit
We use Wolsey Hall, Catherine Mooney and Oxford Open Learning.
We have had no real trouble with any of them.
Wolsey Hall have an online platform which puts everything you need in one place, syllabus, course outline, notes on topics, topic outlines, assignments (submitted by uploading them), message centre for communicating with tutors. Tutors are very efficient and helpful. Only issue we have had so far is one tutor, who also tutors University Level in the same subject, issuing notes that were aimed at a much higher level than IGCSE. Other than that a nice package, easy to work with and reliable. A great German course with WH. Tutor is brilliant. She also does their French course.
Catherine Mooney - entertaining courses, well laid out, quick response to questions and marking of assignments.
Oxford Open Learning - Religious Studies B (AQA). Huge folder of paperwork, but well laid out and easy to read. Two recommended textbooks additional, which we have but the course materials are self-contained and we could do without them. I am told by the tutor than everyone who sat last year in that subject (using OOL) received A or A*. Old-fashioned in that you have to snail mail assignments. We are in Austria so that adds a few weeks to feedback on assignments. Much quicker if you are in UK. I think a full complement of OOL courses would be overwhelming - so much paper!
We looked into InterHigh and Briteschool, but found them inflexible with timing of lessons and subject choice. If you like a lot of structure and don't mind being set homework, which may or may not benefit your child, it would be a good fall-back option. For us it was too much like school.
CloudLearn (not LearnersCloud) is a program with the entire subject online.
A lot of options out there. Be prepared to mix and match to get the subjects/exam board you want. Wolsey Hall will send you, via email, a link to a sample of any course. Catherine Mooney has samples on her website. Cloud Learn give you a code to examine all of their site for a limited period.
Penny Chivers, online maths tutoring - Review Edit
My son joined Penny's maths IGCSE one year higher tier course a little late, but she made him very welcome and was friendly and helpful throughout. The course includes two live online lessons a week with other members of the class, plus homework. Everything was well structured and documented, and Penny answered questions outside of lesson time, as well as linking to plenty of past papers and providing 'mock' tests. Excellent value for money, in my opinion. We had studied maths before, but certainly not in any orderly, 'GCSE trajectory' fashion, so we're very happy that in a few months with Penny's help, our lad came out with a grade 9.
Dreaming Spires Reviews Edit
D's experience Edit
We've used Dreaming Spires online teaching for 2 years with multiple children and found it to be one of the best home ed resources out there.
The English courses cover the skills of KS3/KS4 English lit/lang without the pound towards the dreaded exam or the dryness and limits of National Curriculum. My children have expanded their literature repertoire significantly, whilst simultaneously improving their writing and presentation skills. The opportunity to discuss works of literature with others has deepened both their understanding and love of the subject.
The full 4 year course covers literature from Middle Ages, Renaissance, British Novels and American. You don't need to do all years or in any particular order, it would be quite easy to jump-in at any level. I would suggest that your child needs to be a fluent reader before starting, though.
Teaching is both engaging and reliable, and the best I have experienced at fostering higher order thinking.
The teacher feedback on written work has helped all of my children enormously in developing the style of writing techniques needed for public exams in an enjoyable manner. Any queries are answered very quickly by the teacher directly.
Students develop surprisingly strong relationships with the other members of the class. There are periodic meet-ups during the year with other class members that are optional and a forum with regular lively discussion and banter which resonates my young debate club many years ago.
In terms of value for money, it is one of the most reasonably priced courses we have found, with significant discounts for siblings.
15 & 13 yo Brit Nov course Edit
We have had one year with Dreaming Spires and got so much out of it that we are signing up three daughters for the coming year with all of them doing add on writing. (Dr. Patrick offers generous sibling discounts) The girls enjoyed being in a class and the quality of some of the other student's work encouraged them. They loved the more social side of the classes, meeting up to watch RSC plays and it was a nice gentle introduction to doing a formal class in a more structured environment than home. I enjoyed them having a bit of structure provided by someone else!
The 15 yo did the writing add on and I would highly recommend it. I think that the students who do this course get much more out of the main course (our 13yo only did the main course) as they have further discussions, get deeper into the theme of each essay - setting, mood etc. and have to think about a topic deeply enough to write the essay.
We hadn't done much formal writing before that (just 9 months IEW, which prompted a fair bit of story writing in free time, but nothing 'academic'.) 'Dr. P' takes the class through a structured incremental approach to writing IGCSE level essays with a full essay written on most books over the course of about a month. At the beginning of the year my daughter needed a lot of help and I wondered it it was going to work or if I was just going to have to prompt her all year. For those first essays she scraped a 'C' grade and it was like pulling teeth. In the second term she worked much more independently and by the third she worked pretty much by herself. She wrote her final essay entirely on her own, didn't feel that she'd really given it her all and got an 'A'. She complained a fair bit during the course but last week she admitted that she liked the literature actually so I would say that the course has been a success however you look at it. She is keen to stay with her current class next year.
Dr Patrick is a post grad with experience teaching in public schools in the UK and a CIE examiner so it is nice to know that when she gives a grade it realistically reflects the level they are working at. She obviously loves her subject and gets on well with the students in a relaxed but no nonsense manner. She is also a homeschooling mother of four who cares more about students learning to think at a higher level than passing exams. So whilst doing the course helped reassure my daughter that she could work at IGCSE leve,l I believe that it helped encourage her to think more broadly. As literature touches on just about everything, particularly history, I feel that this course helps the student to grow in general and the fact that it prepares them for more academic writing is a bonus.
You could say I'm sold!
*******************
Dreaming Spires 30-week lit courses and crammer by Sue Packard: Edit
I'd like to recommend Kat's Crammer course for CIE 0500 English to those about to START the IGCSE course as well as those who need to work on exam technique before the next exam session...
...I signed DD up for Kat's course at the last minute, and throughout the course it was made very clear just what was required in order to get a top mark in the exam. For example, 'summary writing' is something any student can do but there is a particular formula that the examiner wants to see in order to give top grade. This and tips for the other types of exam question are all covered in the course.
DD has since participated in three of Kat's other Dreaming Spires Home Learning courses in Literature - Middle Ages Literature, Renaissance Literature, British Novels and this year has enrolled for both American Literature and Classical Civilisation.  My daughter just LOVES these courses.  Kat presents the courses in a very professional manner and the courses are interesting and engaging.  The Add-on Writing extension classes are very useful for those doing any IGCSE/GCSE Literature course - with the work marked as though it is an assessment and also with a great deal of individual feedback.  Mistakes common to several students are gone over in the following class. There is the option after the class (and during the week) to chat online with other students in a secure setting.
Our experience with Kat's courses has been positive.  The skills mastered are being found very useful in DD's current AS level courses in History of Art, Religion, Classical Civilisation & History - all of which have a huge writing component.
Hope this helps someone who has no idea just where to start with English or English Literature.
Sue
***********************
A parent's opinion about the Dreaming Spires Revision crammer course Edit
Kat's thorough input during her intense Course raised my DD's ability from a sound A to a very high A*. Kat's specialist knowledge as a CIE examiner is the clincher, which Kat imparted through clear teaching on how to tackle every question on the exam papers as well as detailed feedback from marking past papers which my DD did during the Crammer & the follow up to the Crammer. Kat's format of teaching a small group of students together via daily live online seminars was a huge boost as my DD was able to read and learn from her fellow student's 'oral' and written efforts. What also comes through strongly is Kat's passion for the subject and care for her students.
IMHO an altogether sterling Crammer Course and worth every bit of the reasonable fee. Thank you Kat!
***********************
Dreaming Spires Revision crammer course, English Language IGCSE
Dr Patrick has the ideal trio of skills for her excellent CIE English Language IGCSE crammer course: teacher and examiner of English, and home educating expert - and she's friendly and funny, too. In a few short weeks she gave my son all the tips and tricks he needed to get an A*, by getting down to brass tacks about the exam game and how to play it. I'm all for giving kids agency and removing any sense of being passive victims in some scary 'important' system, and a course like this is a perfect way to make the whole process clear, manageable and even fun. (Jackie P, parent).
***********************
Home Made Education Reviews Edit
From R:  "I would like to thank you for being such an amazing teacher for M, as she has thoroughly enjoyed all her lessons with you. Every Tuesday she'd look forward to her lessons and not only was the subject interesting but also the way you taught it to your students with so much passion. M really felt like she was on track and knew exactly what she was doing because of your help and guidance. She's going to really miss her lessons with you. You have done such a great job and I will definitely recommend you to others.  THANK YOU!"
***
From D:  We highly recommend HomeMadeEducation. My 14 year old has been studying GCSE Economics this year, online, and is motivated, interested, and eager to take more courses with her next year too.
***
From M:  E  absolutely loves your class.  For a child who has found it almost impossible to write coherent tidy notes. Her files have been a revelation. Thank you for how you have been teaching the class. I never imagined she would enjoy Economics so much.
Online Schools
Edit
Online schools differ from correspondence courses in that they usually offer tutorials in real time with a group of other students. They often offer a 'package' of subjects. In some cases it is not possible to do individual subjects.
Reviews from home educators
Edit
Here are some comments from discussions on the HE Exams networks.
"Interhigh and Briteschool both use the same classroom software package - blackboard collaborate (which is also used by the OU) and so with both a wired connection is better... "
"Briteschool is much, much smaller and so can be much more flexible about accelerating/decelerating your child class for each subject. It is also more flexible about your initial commitment - try and pay for a month to see if that mode of learning is appropriate to your child (live online learning is not a style that suits everybody!) Single subject sign up allowed. .."
"Interhigh is good (we've used both Interhigh and Briteschool) but do note it's ever so strict about it's deadlines for fees due if you decide it's not for you. .."
"Interhigh now has 700 pupils. Some people prefer a smaller st up as it can be more nurturing. The smaller online schools also tend to have more flexibility to take single subjects as opposed to a full set curriculum. Whatever option you choose make sure you can a local exam centre for the subject and board of your choice lined up before you start paying for tuition or a correspondance course. .."
"Interhigh expects two terms minimum commitment and no demonstration/taster and cannot see teacher or kids in the lesson. Briteschool you can see teacher and only pay as you go really..."
" Interhigh offers a classroom demo, their office support is fantastic , always someone at the end of phone when any issues. You can see students who are in the class by names, the same as briteschool. They offer lots of after school clubs for free .pastoral support is good. Good easy to manage software and lesson library..."
"Net school have sent me a detailed overview of their curriculum term by term for the whole of KS3 and offer a demo before deciding on registering. Interhigh don't offer a demo or anything until you sign up and then commit you to minimum two terms, regardless. Briteschool is flexible too and can give notice on a day or weekly basis, according to their head teacher, Dominic. But he only operates on non mobile devices. He is very friendly and has smaller classes so may be able to give more time..."
" If you want to study online in a very different way- we don't work in real time and we allow students to study any number of subjects, plus we home educated our own children - feel free to message me or take a look at our web site - NorthStarWorldwide.org"
"Ditto to highly recommending Net School. Just started this term (1 subject Igcse) Excellent communication, well planned lessons, reasonable price."
Cymru ALN on Online Schools - great article on a wide range of online schools and courses from this Welsh home-ed group.
Interhigh - SO's experience Edit
My 15yo daughter has been with Interhigh for the last year, and she's in the run up to IGCSEs next summer. My overall impression has been good. DD's science teachers have been very good, also English and maths. DD loves her English teacher, who has been extremely encouraging. Her maths teacher is also the head (as far as I can work out!) and he is determined to leave no one behind. He works really hard to keep everyone involved.
They are approachable and friendly, and it is quite relaxed, but without excess messing about imo. They have a weekend away once a year, which is very popular. Classes are around 16? pupils I think. One thing I miss is that lessons are not recorded, so if you miss one, you can't watch it again. However the PowerPoints in the lesson library will allow a clever child to catch up, or the parent of a less able child to easily teach what has been missed. The technology and website works reliably and is easy to use and find your way around. There is a sense of community because your child will be in the same group for every class. I like the ethos of the school, which seems to be efficient, yet relaxed and friendly.
However it's not like net-school. You take a raft of IGCSCEs at once, as you would in school. Double science is the normal option and you have to pay extra to do separate sciences. Edexcel is the default exam board. When I say you have the option, you can take them or leave them, but you have to pay the whole fee regardless of how many subjects you take. We are not taking all available subjects, but we still feel it's good value. For taking a larger number of IGCSEs it will definitely be cheaper than net-school. We started out taking seven courses, but ended up dropping several subjects as it was clear they were a bridge too far. This has not been a problem. There has been no pressure to take a certain number of qualifications, but it gave dd chance to try out a range of subjects for the first couple of terms and then drop those that she wasn't enjoying.
Dyslexia support has been good. My dd feels cared for and treated as an individual. They have provided special dyslexia sessions and also offer pastoral support, a bit like a real school. DD hated real school but feels very positive about Interhigh and feels a sense of belonging.
Interhigh - Comment 1 Edit
Interhigh allows my child to carry on her education, follow the national curriculum and gives her the opportunities to carry on to do her IGCSE's ,A levels and AS which as a family we feel is important.The virtual online classrooms,small class numbers, great teachers and staff support is all brilliant.There is a lesson library to go over the lessons if you require. We took my daughter on a two week holiday; she did the two weeks of lessons and homework before we went so she didn't miss out. Socially all the kids talk to each other on social media and they have trips.
Interhigh Comment 2
Edit
"We've never tried the other alternatives so I'm not in a position to compare them directly. Things I like about Interhigh - live lessons, very small classes, lovely, supportive and enthusiastic subject teachers, good quality course material, lesson library for catch-up or revision if required, clear route to IGCSEs and help with finding exam centres, good support system and flexibility to meet individual child's needs. There is also a good student community and many opportunities for interaction. Before Interhigh we used WES, who I also found to be excellent for earlier years, but not nearly as interactive. Downside - it's quite expensive compared to doing it yourself (although, I think, v. good value for what you get and the time saved) and you don't have the option to just pay for a couple of subjects, you pay for a full curriculum, even if that isn't what you want or your child chooses not to study all subjects. In our case, it suited what we were looking for. Personally, I think for older years it's helpful for children to be able to work with expert subject teachers, although I know not everyone agrees on that.."
Net School - S's Experience Edit
Over the last 4 years I have become a big fan of online schooling as a very convenient and relatively affordable way of getting support from specialist teachers in certain subjects. It is particularly reassuring to be able to access help and guidance with exam preparation from teachers who know the system well - I'm a pretty confident kind of person most of the time but assuming full responsibility for getting my kids through public exams has reduced me to a gibbering wreck on more than one occasion!!
The classes are live and interactive and my children really enjoy their lessons which are surprisingly quite social too.
I can highly recommend Net School as being very professional and flexible - there is no requirement to study a set number or combination of subjects/levels so you can really use it to pick and mix courses to suit your child e.g. they could be doing IGCSE courses in some subjects but KS3 in others providing the timetable works out. Various discounts are available for multiple courses or siblings.
Net School offers a primary curriculum as well as KS3 level lessons and many IGCSE courses. If the subject you are looking for isn't currently offered it is well worth sending a suggestion by email and if there is enough demand there is a good chance that something can be set up. Class size is deliberately kept very small with a max of 8 students in each.
My children are studying History and Latin at Net School, they are making good progress and I am very happy with the quality of the lessons. I also have friends who are using Net School for other subjects and they are equally happy with the provision.
NB At Net School, parents are responsible for entering their child for any examinations.
It is well worth taking a look at the Net School website and contacting the founder, Susan Reed for further info.
Net School - E's Experience Edit
We use Net School for our daughter; she has really come on so much with them, to the point where she said last week that learning is fun again (we didn't think we would ever hear this again after the school managed to get her believing she couldn't do much). They offer IGCSE courses as well, although they are run over two years. We plan to split them, so start three in the first year and then the next three the following year. This would mean only three exams each year although the second year would also involve the classwork/homework for the other subjects but they spend the last term doing revision and exam practise from what I can see. If you go to their website and email Susan Reed, she is extremely helpful and will talk you through it until you are happy with how it all works, I have asked loads of questions and she is very patient and helpful ! I can only tell you what a difference it has made to my daughter in her outlook to learning and studying but I am so glad we gave it a try. They offer the three sciences, maths, english lang, english lit, geography, history and latin all IGCSE courses.
Net School - A's Experience
My daughter has been using Net School for Ks3 German for two years (and is now in her 3rd year). The tutor keeps us regularly updated and is always efficient at marking assignments, with gentle (but constructive) criticism. We've found it very good value for money, as language tuition is usually very expensive. The only downside is that their ks3 usually span over 3 years, so you would need to speak to the tutor if you wished to accelerate through to IGCSE. Friends have used Netschool for IGCSE History and also found the tutor to be excellent.
Online School Links Edit
NSWLearning (See under Multiple Subject Distance Learning Course Providers)
WES Homeschooling - English education for families overseas
Cymru ALN on Online Schools - great article on a wide range of online schools and courses from this Welsh home-ed group.
Daily Mail article about online schools

Return to Main Page