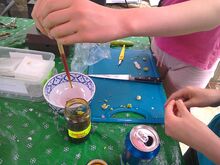 Chemistry Qualifications from Home Education
Edit
Home-ed students take International GCSE (IGCSE) Chemistry exams, which consist of written exams only but, unlike the 9-1 GCSEs, do not require core practical work to be carried out in the exam centre.  
Edexcel IGCSE and CIE (Cambridge International Examinations) IGCSE Chemistry are available for private candidates.
Although there is no practical task in IGCSE Chemistry, an understanding of practical work is necessary and many home educators undertake chemistry practicals on the syllabus, whether at home, in tutor groups or at workshops. Please see Chemistry Practicals for more on doing experiments from home education.
Alternative to Practicals Questions
Edit
The Edexcel and CIE specifications includes 'alternative to Practicals' questions, rather than requiring a practical exam. One way to  prepare is simply working through loads of past papers and then carefully reading the mark scheme and examiners' reports afterwards.  The old Edexcel spec is perfectly good for this - in fact you can just get the 'alternative to practical' paper from the old spec (paper 3) and work through that. The change in specification was mainly for structure and there was not a huge change in content.
These questions about changes to an experiment are often straightforward; there are recurring themes, eg whether you can take accurate measurements in the current setup and whether there are any safety issues.
These questions are very similar in both Edexcel and CIE so you can use both for practice.
Can we do the new 9-1 GCSE Chemistry?
Edit
The new 9-1 GCSEs do not have a practical exam or controlled assessments, BUT the head of the exam centre has to sign a form for each candidate saying that the candidate has been offered the opportunity to carry out all core practicals at the centre. It is unlikely that many exam centres will offer external candidates the opportunity to do this, as it is time consuming suka
and bureaucratic. The vast majority of home educators are continuing with IGCSEs. This does not mean that we will not do practical work - many home-educated children do chemistry practicals, either in groups or at home - but it does mean that they will not do practicals in the exam centre.
CIE IGCSE Chemistry
Edit
CIE IGCSE Chemistry (0620) is a long-standing option.
Three papers: a 1h Alternative to Practical, a 45 min Multiple Choice and a 1 hr 15 Theory paper. 
Multiple choice and theory are taken back to back (so effectively 2 hours), but the multiple choice element does assist someone who's not used to long exams, or producing long written answers.  
CIE science IGCSEs are tiered, so all the difficult questions are in one paper if you do Higher tier. Foundation tier can earn you grades C-G and Higher tier can earn grades A*-C. If you score below the C threshold on Higher then you get ungraded.
Edexcel International GCSE / Edexcel Certificate
Edit
This is a popular choice amongst home educators as it is easy to find an exam centre for Edexcel. The specification is changing slightly for exams from Summer 2019.
The current specification is Edexcel IGCSE Chemistry (2011) and is graded A*-G . Last exams will be January 2019. These are described as a 'resit opportunity' but actually first-time candidates can sit exams in January; you just have to be aware that there will be no further exams for this specification.
The new specification, graded 9-1, will have first exams in Summer 2019 and is Edexcel IGCSE Chemistry (2017) . The (2017) refers to the year it is first offered for teaching in schools. First exams will be Summer 2019. The changes are not that substantial. Edexcel has produced a mapping document which is copied below.
Edexcel 2011 specification:
Edit
2 papers, paper 1 is 2 hours and paper 2 is 1 hour. Paper 1 is the same as the chemistry paper of Double Award Science.
Single - tier entry, so both difficult and easier questions are scattered between the two papers and you don't have to choose which tier your child will enter. You can get the full range of grades by sitting the two papers.
Alternative to Practical questions are scattered between the two papers. 
Qualification code is 4CH0 for the IGCSE and KCH0 for the Edexcel Certificate. Usually the same exam paper has these two different codes on the front.
Edexcel IGCSE Chemistry Subject Page 
The exam board's website is usually the best place to find past papers - most of them keep the most recent past paper password-protected for exam centres only, but you can download others and mark schemes, examiners' reports etc, freely.  Just search, eg, "edexcel igcse chemistry" and it is easy to find - 
For Edexcel IGCSE, you will need to look at the IGCSE Chemistry from 2009 AND the IGCSE Chemistry from 2011.  The changes were very minor and the past papers from the 2009 spec are good practice for the 2011.  You can also practise with questions from the older, pre-2009, spec; if you do the past papers from the most recent spec first, you can then go through the older ones and pick out similar questions.  Sometimes the time allowed and total marks are different, so what we do with old papers is look at the overall marks and overall time, work out how many minutes are available per mark, and then put together a few practise questions with the appropriate time limits.  I know it may seem obvious, but you don't have to do a whole 2 hour paper in one go either.  It is, of course, helpful to have a couple of mock exams the exact length as the real thing, but otherwise, it may fit your family better to chop it up into several half-hour chunks. 
Textbooks for Edexcel IGCSE Chemistry
Edit
Edexcel IGCSE chemistry student book by Jim Clark has been highly recommended by many.  The author has his own website where he offers all the answers PLUS [additional support to home -ed parents].  Pearson Edexcel also provide the  [answers to all questions] as a free download.
Collins Edexcel International GCSE Chemistry Student Book by Chris Sunley et al. This series has received good reviews from home-educators, but note that answers are not provided to the exam-style questions; these are in the Teacher Pack, which costs £98!! However, Collins have generally been helpful recently when members have contacted them asking for a copy of the answers. (18/08/15 - I contacted Collins by email who instantly replied to my email enclosing the answers for both Chemistry and Physics textbooks. RB - file uploaded here: please click on the PDF below.)
Hodder: Edexcel International GCSE Chemistry and Certificate Practice Book, by Robert Wensley (2013) - for IGCSE and Certificate. Recommended by a home-educator, who wrote: "They are full of exam style questions and detailed guidance on how to answer to gain the most marks.". The only drawback is that the answers have disappeared from the Hodder site. Hodder provided them for our group member and the files are available below.
Past Papers Edit
Collection of older Edexcel IGCSE papers
For more exam papers, you will usually have to look on free exam paper sharing sites - eg 
Freeexampapers.com Chemistry IGCSE page
More up to date exam papers can be found here: Bilal's Ahmed's Blog
Edexcel provide a useful iPad app called 'Edexcel Past Papers' which gives instant, free, access to many past papers.
New Edexcel 9-1 IGCSE Chemistry (2017) Specification
Edit
The new specification, graded 9-1, will have first exams in Summer 2019 and is Edexcel IGCSE Chemistry (2017) . The (2017) refers to the year it is first offered for teaching in schools. The changes are not that substantial - many small changes to descriptions rather than large differences in topic areas. You will probably still find old past papers helpful.
File:Edexcel IGCSE-Chemistry-2017-mapping-document.pdf
Edexcel has also produced a more detailed mapping document which goes through the whole specification line-by-line noting any changes.
AQA Level 1/2 Certificate in Chemistry
Edit
This specification was available to private candidates from June 2013 (2 papers) and has been discontinued with last exam in summer 2017.
AQA Chemistry Certificate/IGCSE
Chemistry Practicals and Experiments
Edit
Please see our new page on Chemistry Practicals . Many of the practicals recommended in the syllabus can be carried out at home; it is surprising how much can be done with relatively little kit, but you may also find that equipment is often affordable.  For those experiments which you are not able to carry out at home, there are many videos on YouTube.  There are also chemistry camps and workshops where you can get access to specialist equipment.
Resources
Edit
Seneca Learning - A free online learning platform that applies neuroscience to make students learn 2x faster. The exam-board specific content is written by senior examiners, and the courses cover everything required in the GCSE / IGCSE courses.
South West Science School -Offer online courses which you can study at your own rate with weekly question sheets and mock exams following the IGCSE EdExcel Chemistry Syllabus. The course is features over a 70 videos ranging from 15 mins to 1 hour, online assignments, self assessed assignments as well as mock exam questions throughout the course. The course is supported by a qualified teacher and a university lecturer.
IGCSE Science Courses - Graham Bray is a Director of STEM (Science, Technology, Engineering and Maths) at a large comprehensive school in East Sussex. He initially prepared a set of video courses for a local home ed student with dyslexia who was struggling with reading textbooks. He 'teaches' the whole syllabus in a series of c15minute videos of himself talking through a set of powerpoint animated slides. He now offers 'talking papers' with model answers, lesson plans and checklists. Videos cover each of the 3 sciences and CIE and Edexcel Boards.
Pinterest board on IGCSE Chemistry compiled by one of our members.  
Community content is available under
CC-BY-SA
unless otherwise noted.