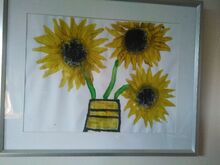 Note: this page is currently being updated, so some information might be out-of-date. If you are not sure about something, please ask on the Home Education UK Exams & Alternatives group
Art qualifications are difficult for home-educated students to access, because both GCSE and IGCSE Art and Design have practical elements. Few exam centres will take external candidates for this, but some that we know of are listed on this page. There are alternatives. If you want to take art at college, you can build up a portfolio and consider taking the Trinity Arts Awards, or there is an option to obtain a Level 2 Certificate in Art and Design through distance learning; details of all these are below. In some areas there are part-time college schemes for home-educated children aged 14-16, and art is sometimes available this way.
If you are new to taking exams from home education, please read the Quick Start Guide first. Once you've got up to speed, please Join the HE Exams community to get support from fellow home-educators. There is a Facebook group: Home Education UK Exams & Alternatives, and an email group, the HE Exams Yahoogroup.
GCSE Art
GCSE Art requires coursework to be produced under controlled assessment conditions.  As such, it is difficult for home educators to do. There are a few centres where it is possible, such as Faregos in Hampshire. If you know of more, please mention them in the comments or click the Edit button and add here.
Sometimes you can access GCSE art through an adult-education college or specialist art college.  Sometimes your local home-ed group will know about an art tutor who has a special arrangement with a school which allows them to take a group through GCSE art.  For small groups it helps to ask around to find out about the tutor's approach and/or have a trial class before signing up as the amount of work required for art GCSE, and the critical feedback necessary, means the relationship between student and art teacher can be more important than with other subjects.    
IGCSE Art
Cambridge IGCSE Art and Design (0989 or 0400)
Like GCSE art, Cambridge IGCSE Art now has compulsory coursework, which will make it very difficult for home educators to arrange with an exam centre. The new syllabus states that it is not available to private candidates (although exam centres can still enter you as an internal candidate at their discretion, eg if you are receiving some tuition there).There were already very few exam centres that would accommodate the practical art exams, but the compulsory coursework will make it even harder. Your best option might be to ask on the HE exams group for updates on any groups which can offer GCSE art through an accommodating exam centre.
CAIE (Cambridge) IGCSE Art and Design is available either as A*-G graded or 9-1. There is no other difference between these syllabuses. Cambridge IGCSE Art & Design (9-1) (0989) is identical to CIE IGCSE Art and Design (0400) just that it is graded using the numerical grading, not the old A*-G grading.
Student Art Guide might be helpful
Online College of Art and Design (www.artcoursework.com) no longer offer a distance-learning IGCSE Art course as they say the exam board no longer allows private candidates to take this exam (scroll down for comments about OCAD). They do, however, offer some Level 2 courses in Art on their website which don't require exams, but you would need to find out if these qualifications would be accepted by the institutions your child wishes to study at, next. Be aware that they have a poor reputation for their admin, although their resources and teaching seem to be very good. Also be aware that if you do not cancel within the first month, you will be responsible for paying for the entire course, even if your child changes their mind and wants to stop. They also offer a level 2 qualification, which might, for some colleges, be accepted as equivalent to a BTEC. (Do check with your college)
Exam Centres
It can be very difficult to find an exam centre to take candidates for either GCSE or IGCSE Art, because of the practical exam and the need to ensure coursework can be signed off.
Here are some exam centres which home educators have used, or tutors who arrange their own exam centres. It's not unusual to travel long distances and stay overnight near the exam centre that will facilitate Art GCSE/IGCSE. Do check your local exam centre listings too - look on Finding An Exam Centre and also ask on your local home-ed groups. If you find a new centre, please add it here in a comment.
NB: Do make sure that you have an offer in writing, which states all exam fees, from the EXAM CENTRE, rather than an art teacher. A number of home educators have been caught out late on in courses when finding that an exam centre had not been secured at all.
The Rosetta Art centre, Newham, London , will commence teaching gcse art and design classes early March on Mondays 1.15pm - 3.15pm. The centre will deliver 36 sessions leading to gcse edexcel art and design and students will sit the exam at the centre in summer 2017.  The total cost of this course is £465 and covers all 36 sessions, resources, exam fees. The centre is still accepting enrolments. This is the first time the centre is running the GCSE course (they are an accredited exam centre)  they won't know if they will run the course next year until this intake is nearly finished. Trisha McCauley is the course co-ordinator if anyone wants to pursue directly, ring her at the centre.  
Blackheath Conservatoire, London SE3. Art class for ages 13-18 . Can join mid-way through the term. It is an exam centre as well as providing tuition.  
Cherry Hill Tuition Hounslow TW3 - used to be able to facilitate CAIE Art and Design IGCSE when it was the old exam syllabus. It is not certain if they can facilitate the coursework for the most recent syllabus.  
Safeschool, London SE9 A home-education tuition centre which offers GCSE art (AQA board).  
Pippa Stacey Sydenham SE26 - runs GCSE Art classes for home-educated students and arranges exams for her own pupils.
Tutors & Exams located in Wimbledon, Coventry and Bolton. Used to be able to facilitate IGCSE Art and Design exams, but we currently have no information whether they will facilitate the compulsory coursework of the most recent syllabus.
Colours Academy Ivybridge, Devon Offers GCSE Art and Design, as well as Photography, to home educated candidates. "From September 2020 we will be starting online learning for GCSE Art and Photography pupils (https://www.colours.academy/colours-outreach). We use Edexcel for all of our offered qualifications."
Arts Award
For Trinity Arts Award see this page
Note: the information below might be out-of-date
Level 2 and 3 Certificate / BTEC "Equivalent" in Art and Design
The Online College of Art and Design. offer a distance learning option for an accredited Level 2 and 3 award in Art and Design. The Certificate is awarded by ABC Awards, and is Ofqual-accredited at Level 2. This means it is the same difficulty as a GCSE, but usually will be a different size. OCAD offer a distance learning course with no exam, so, as with the Trinity Arts Award, this could be a good way to build up your portfolio and the certificate itself may help you to be accepted onto a college arts course later. However, you cannot rely on it being accepted as a GCSE equivalent for college or sixth form entrance.
OCAD also offer a distance-learning course to prepare for IGCSE Art & Design, but do not arrange the exam centre or coursework accreditation for you - so anyone using this option needs to find an exam centre for themselves and be aware of the difficulties of arranging the coursework and exam components.
The level 3 certificate seems less well supported and students don't have the access to resources that are available for the level 2 certificate.
Comments on OCAD from home educators:
"We've done the first year of the OCAD CIE IGCSE course so far, and have been really impressed. There are a lot of resources, the course seems thoroughly planned out and the teacher is excellent. My daughter has learnt a huge amount this year and is doing art that she would never have been doing left to herself. It is quite a big time investment if you want to make the most of it; you could easily spend all week on it! I remember the teacher saying she knew that some people only had a couple of hours a week for art homework, but I can't see how you could do it effectively in that. However, my impression is that everyone says this about GCSE art, regardless of where they're studying. OCAD doesn't sort of the exam centre - you have to do that bit yourself." - M
"Lots of online resources, videos, tutorials, and Iive lessons. Not all the lessons were of interest to my daughter, but I was impressed with the variety of what was on offer. We had access to all the past lessons and resources, too.
Their admin, however, is poor. We joined at a time when there were lots of issues with transferring their website, but it seems that our experience of the admin was not unusual. The certificate students were rarely notified of any updates or changes, but the IGCSE students were kept better informed. At one point we were getting emails for all other subjects offered by the provider, but nothing for art!
My daughter found that the workload was huge and she eventually stopped attending the lessons and dropped out of the course. There was no follow-up from the tutor or the course provider. It was as if nobody even noticed she had attended or had left. We had to pay until the end of the course.
I do think that the resources are excellent, but you will need to be on top of the admin side of things. - NM
"My son has just completed this course. It leads to ABC level 2 award and is Ofqual regulated. It is a very comprehensive course and there is a lot of tuition time included in the cost. In our second year, we have also had a lot of 1:1 advice, skype calls, messages etc. to support final project. It has been a lot of hard work and he has built up a good portfolio. Although there is obviously a need to consult with individual colleges regarding acceptability, my feeling is that having evidence of following this highly structured and varied course should be a positive factor in negotiation. Alternatively, there is the option to continue to Level 3 with OCAD if you wish...We originally started it when my son came out of school in year 9, having just opted to take art, drama and music as GCSE options and we were looking for best alternatives that could realistically be achieved while HE. At that stage, he was looking to progress to a creative subjects at A level (at college) and although that plan has now changed, this course has helped him achieve a balance of qualifications, should he wish to change direction again in the future." - RO
Is it structured with deadlines, or self-paced?
"There are set tasks to work through at your own pace, plus a huge amount of self-access resources - OCAD tutorials and video lessons, plus links to other YouTube videos and online resources. The student is expected to submit work regularly to their study platform for tutor feedback (and will be nagged if they don't, so I'm told!) There are also twice-weekly live lessons with the art tutor. The lesson content is not specifically connected with the set tasks, but can be techniques or artist studies which can help towards the tasks or the final project, or just done on their own merit. The "btec" course and the IGCSE course use exactly the same resources and the same tutor and live lessons. lessons are recorded so the student can watch them again, or if they missed them. If a student followed all the links and did all the tasks and live lesson art projects, they could easily spend 15 hours+ a week doing it. (My DD is more selective and only spends around 5-6 hours a week on it)."
"I'd say allow at least 4-5 hours a week, on top of the 2 hours of live lessons for the level 2 "btec equivalent". A friend's daughter was spending close to 10 hours a week. The "btec equivalent" is over two years. You can compress it into less time, but the submission of the final project for external marking only happens once a year, so you might finish the course and then have to wait to submit it. "
Resources
Free online tutorials
Loads on YouTube - here are some recommendations:
Learn to Draw playlist by SchaeferArt - a very popular free tutorial channel. He has many other playlists of related tutorials.
MOOCs - Massive Open Online Courses, on platforms such as Futurelearn, Coursera, EdX, Alison etc. Some free, structured art courses available.
The Virtual Instructor - free art lessons and tutorials.
Mrs Kunstler's Classes - Free complete high school artcurriculum - also offers classes etc
Free art and design software
Vue - (Personal Learning Edition)
Suggestions from one Son of the HE-Exams List:
GIMP <http://www.gimp.org/> ("GNU Image Manipulation Program") is a free competitor. Given, yes, it isn't as powerful as the Adobe suite, but it has some unique features. With Gimp you can also draw and paint.

Google's Picasa <http://picasa.google.co.uk/> is useful for slight adjustments and cropping, it is very easy to use.
Recently, Adobe released their old [http://www.adobe.com/downloads/cs2_downloads/index.htmlCreative Suite
2] for completely free (this IS legal, don't worry). This is good if you want to check out what sort of things the software
does.

There's also Photoshop Express<http://www.photoshop.com/tools/expresseditor>,which is online. (You don't even need to download anything.)

Remember that actually being good at taking photographs is a good start, too.
Drawing.
Again, Adobe Illustrator <http://www.adobe.com/uk/products/illustrator.html> is popular for a lot of artists, but there are more free drawing programs than you could shake a very, very long stick at.
My favourite is MyPaint <http://mypaint.intilinux.com/>, a little-known piece of software that deserves way more attention. With MyPaint you can, well, paint... but it actually simulates the mixing of paint in a realistic manner, should you want it to. It has a load of drawing/painting tools for you to use. Some are based on real mediums, such as pastels, and pencils. Others are more digital-art orientated.
For more of a solely painting package, Krita <http://krita.org/> is pretty good. There's Paint.NET <http://www.getpaint.net/>, too. Although I get irritated of all the different windows.
Another that I also enjoy is Livebrush <http://www.livebrush.com/>. With Livebrush you can draw some really interesting patterns, as well as some very stylized art. Its main feature is that it draws in vectors, meaning that you can make the image as large or small as you'd like, and it doesn't lose any quality.
Alchemy <http://al.chemy.org/> is pretty interesting, too. It focuses on making really messy stuff with could be used as a base for drawings.

You can also draw online, rather than having to download anything. Check out deviantART muro <http://muro.deviantart.com/>,

3D Graphics.
This is where you're spoiled for choice. There are hundreds of 3D packages out there, such as Cinema 4D <http://www.maxon.net/en/home.html>,
Lightwave<https://www.lightwave3d.com/>
, 3DS Max <http://usa.autodesk.com/3ds-max/>,
but since these are all studio-quality, they have a studio-quality price tag. These programs can also be incredibly confusing for people starting to look into the world of 3D art and design. There's lots free software in this area, though.
Google Sketchup <http://www.sketchup.com/intl/en/index.html> is a great place to learn the basics. You can create whatever you can thin of using basic shapes. The tools are incredibly easy to use, and newbie friendly. Sketchup lacks the ability to make more organic shapes, since it is mainly for product design.
That's where Sculptris <http://pixologic.com/sculptris/> comes in. It lets you 'sculpt' a virtual model as though it was made out of clay. You can also add colour to your sculpt. Consider it a step-up from Sketchup.

This is when we come to Blender 3D <http://www.blender.org/download>; the best free software there is. Full. Stop. It is a serious competitor to the paid software that I mentioned earlier, and in a lot of respects much better. It provides tools for sculpting, animation, rendering and more, all in one piece of software. Blender has most of the same features as its high-end competition, but in a smaller, less over-the-top manner. It can be a pain to start to learn, but there's more free tutorial sites for it than I have fingers.
Community content is available under
CC-BY-SA
unless otherwise noted.