Line 15:
Line 15:
 

* Specification code: J198

 

* Specification code: J198

 
 
 
+

<br />

 
 
 
+

=== Subject Content ===

⚫
 
 
+

Content is broken in to 2 components. The topic areas selected for this specification range from the 8th century BC to the 1st century AD.

 
+
 
⚫
 

Compulsory period study: The Persian Empire

 

Compulsory period study: The Persian Empire

 
⚫
−
 
⚫
 
−
 
 

* From Tyranny to Democracy, 546—483 BC

 

* From Tyranny to Democracy, 546—483 BC

 

* Athens in the Age of Pericles, 462—429 BC

 

* Athens in the Age of Pericles, 462—429 BC

 

* Alexander the Great, 356—323 BC.

 

* Alexander the Great, 356—323 BC.

 
 
−

100 marks + 5 SPaG marks, 1 hour 45 minutes written paper, 50% of total GCSE (9–1)

 
 
 
 

==== Component Group 2: Rome and its neighbours ====

 

==== Component Group 2: Rome and its neighbours ====
---
Revision as of 07:14, 22 July 2021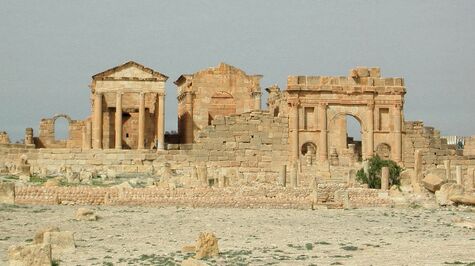 Ancient History is only available as OCR GCSE. It is 100% exam based assessment so is accessible to home educators.
Classical Civilisation could be a complementary or alternative qualification.
Ancient History covers Roman, Greek and Persian History.
For assessments in 2021 content was reduced, a similar proposal has been made for 2022 but not confirmed. Check the spec page for updates.

OCR Ancient History GCSE
OCR GCSE Ancient History page and specification
Exams from: June 2019
Available in June
Specification code: J198
Subject Content
Content is broken in to 2 components. The topic areas selected for this specification range from the 8th century BC to the 1st century AD.
Component 1: Greece and Persia Compulsory period study: The Persian Empire Choice of one Depth Study from:
From Tyranny to Democracy, 546—483 BC
Athens in the Age of Pericles, 462—429 BC
Alexander the Great, 356—323 BC.
Component Group 2: Rome and its neighbours
Compulsory period study: Foundations of Rome
Depth Study: One from
Hannibal and the Second Punic War, 218—201 BC
Cleopatra: Rome and Egypt, 69—30 BC
Britannia: from conquest to province, AD 43 — c. 84.
100 marks + 5 SPaG marks, 1 hour 45 minutes written paper, 50% of total GCSE (9–1)
Resources
Textbooks
OCR Ancient History GCSE Component 1- Greece and Persia; By Sam Baddeley, Paul Fowler, Lucy Nicholas and James Renshaw. Published by Bloomsbury
OCR Ancient History GCSE Component 2 - Rome; By Paul Fowler, Christopher Grocock and James Melville. Published by Bloomsbury
Facebook group
Ancient History GCSE (Home Education) Facebook group
https://www.facebook.com/groups/650183262571585
Websites
The Classics Library https://www.theclassicslibrary.com/